One Change at a Time: Supporting Street Children
November 15, 2016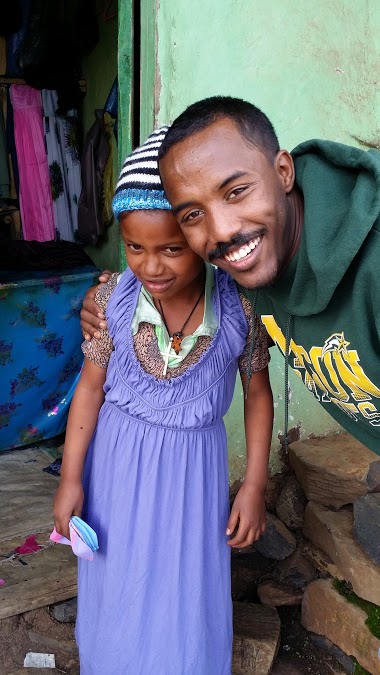 Who are street children? You don't hear about them often, but it is common to see a child working and living on a street in a third world country. Child labor is forbidden in most developed countries, but poverty forces many children to work at young age in developing countries.
Despite working for long hours, almost all street children have inadequate access to necessities that we take for granted including shelter, cleaning water, and food.
I started a project called 'Help Street Kids in Ethiopia' to make a small impact towards changing street kids' lives mainly in Ethiopia. The GOAL was to find a better working place for street kids who support themselves by running cleaning shoes business or selling goods on the black market.
Using the GoFundMe page, I was able to raise $2,932 to construct a working place and collected donated clothes that weigh close to 250 pounds. If it wasn't for the donors, my friends, and my POE mentors, this would not become possible. I wanted to start by saying THANK YOU.
Five days after my flight to Ethiopia on May 15, 2016, I started handing out clothes on the streets of Debre Markos, Ethiopia. Similarly, I handed out clothes to children ages 5-17 in Yetmen, a rural area in Ethiopia. In similar mission, I walked around in different streets of Bahir Dar to find children in need to give donated clothes. At the end, I was able to hand out clothes for more than 50 children and about 8 adults.
As I was looking for a place to place my container houses. It was very stressful, because the government officials would not help me. I remembered going from office to office asking permission to build a working place and receiving no answers. However, the satisfaction of knowing this would help someone's life kept me going.
For two weeks, I tried to receive a land permission from the Mayor's Office but my plan was not working. So I decided to go with my second plan working with the sub city government. After about a week, I received a decision from sub city government officials that they will be willing to give land if they are the one who will place the street children once the work is completed.
Despite knowing the challenges, I designed a container house using what I learned in the past and my experience in college. In addition, I designed something that looks like a bus stop that can be used for running a cleaning shoes business and signed a contract with a metal worker to build two of them. I managed the process of placing the container parts and finished the interior works including painting, electric wiring, and placing floor tiles.
At the end, I was able to place a container house and two bus stops that can be used for running cleaning shoes business. Changes come one at a time. So, let us work together to stand for those in need and make our community, our country, and the world a better place to live for everyone.